Welcome to my site and thanks for visiting! I write a regular column for the Daily Reporter in Greenfield, Indiana; you can read these under Articles. Choose Adventures to check out my e-books or Archive for my older works. Share your thoughts with me through Contact, and peruse my current musings on this home page.
February 2018
This is my current favorite cheese. Not easy to find but worth the search.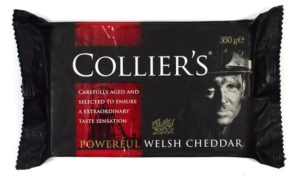 ***
I saw a woman today with the most beautiful long white hair. I felt a bit strange approaching her but figured that everyone likes a sincere compliment. She said it made her day to hear that!
***
While hanging out at Lucky's in Bloomington, I couldn't help but organize the cards to the game Apples to Apples. Glad to know I did my small part to create order out of chaos in the universe.
***
Went to a yoga class yesterday in Bloomington. I was both the oldest, tallest, and broadest person in the room.
***
Hanging out with some awesome and fun friends!

***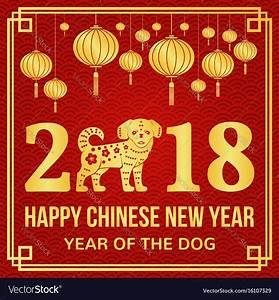 ***
Happy Valentine's Day! Beautiful silk flowers from Dad!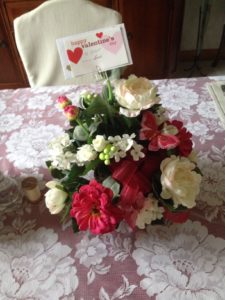 ***
Sometimes it really is the little things that matter. A few weeks ago I got coffee at Starbucks. I was drinking it there so I got it in a real mug. The barista was putting hot water in it so I thought maybe she misunderstood my order and was giving me tea. Then I realized she was warming my cup! This impressed me so much that I'm still feeling good about it several weeks later.
***
Punxsutawney Phil has predicted six more weeks of winter! Wear something brown and fuzzy today in celebration of Groundhog Day.
***
I wish I knew a bunch of little kids so I could have a Babymouse Valentine's Day Tea Party.
January 2018
I heard a song title the other day: "Him and I". AAARGH! It's painful to listen to such poor grammar!
***
Few things give you such warm glow as hearing those three beautiful words: "Everything Looks Fine", from your dentist.
***
The highlight of my day was stumbling across, then reading, Walter the Farting Dog. Everything else was pretty much a letdown after that.
***
A friend reminded me of the Poe Toaster, a mysterious figure dressed in black who would arrive at Poe's grave in Baltimore in the early hours of his birthday to pour a glass of cognac, drink a toast to the poet, then leave the unfinished bottle along with an arrangement of roses. The tradition continued for 80 years but alas is no more.
***
Discovered Hinterland, a British crime drama series, on Netflix. It takes place in Wales and reminds me a lot of Shetland and Broadchurch.
***
You know you work on the Bookmobile in the winter when you look in your closet and ask yourself which sweater you'll wear today and the answer is all of them.
***
If I can look out the window without my glasses and tell that it is snowing sideways, then I think it's bad enough out that I can justify skipping the gym for today.
***
Blessed Theophany! Also known as Epiphany, Kings Day, the Twelfth Day of Christmas (and Twelfth Night, for all you Shakespeare fans.)
***
With my library job I'm getting familiar with what's currently popular in children's literature. My favorite so far is Hamstersaurus Rex.
***
Watched the movie 9-5 again. Even after all these years it's still funny and never gets old.
***
Got to drive a Mercedes for the first time–the Hancock County Library Bookmobile!
***
January 1st was very cold but enjoyed the breathtaking full supermoon!
December 2017
If I ran my feet as much as I run my mouth, I'd be in great shape.
***
While visiting Bloomington this weekend, I was at a stoplight behind a Mazerati. Not an experience I'd had before!
***
I actually like running in cold weather. There's nobody out to see how terrible I look.
***
I think this could qualify as a Christmas tree worthy of A Charlie Brown Christmas.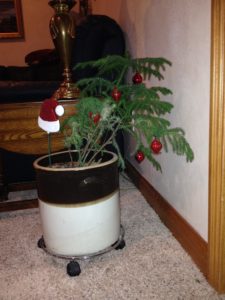 ***
Another great day with Leadership Hancock County! Learned about community issues and got our group project assignments.
***
Went to the chess club tonight–I am proud to say I played well and held my own!
***
Enjoyed the Parade of Lights in downtown Greenfield!
November 2017
I am excited to find out that there is a chess club in Greenfield! It meets on Mondays at 4 pm at Hometown Comics. I hope I don't embarrass myself too badly but it would be fun to play against real live people. And maybe improve my game!
***
Finally got some business cards so I don't have to keep writing out my contact information on random bits of paper.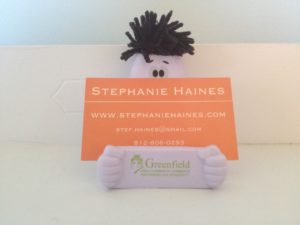 ***
I was pleased to carry on a Thanksgiving tradition: Listening to Arlo Guthrie's Alice's Restaurant.
***
Why is it that of all the options for emojis on my phone, most of them are negative. I find myself using the same ones over and over when I want to convey enthusiasm for something. Or I just use something that's not a face at all, like I'll send someone a bar of chocolate instead.
***
Enjoyed the annual meeting of Greenfield Main Street! Lots of fun things happening in my hometown!
***
Discovered Shetland, a UK produced TV show. Seasons 1-3 are on Netflix and season 4 should be coming out soon. Not sure how I missed it before now but glad I stumbled across it!
***
Heard some great speakers and enjoyed the panel discussion at the Women in Business conference.
***
Had so much fun at Fall That Jazz. Realized how much I've been in jazz withdrawal since leaving Bloomington.
***
Business/Commerce/Agriculture Day for Leadership Hancock County gave me much food for thought. Wish it had been split into two days so that I could have absorbed all the information presented.
October 2017
I can say with confidence that I no longer run like a girl. That's because I now run like a middle-aged woman.
***
Boos & Brews was well attended despite the rain and suddenly cold temperatures. Many people expressed they hope it will be an annual event. Got a nice pint glass and a fun orange t-shirt!
***
Had a great time last night at the Women Helping Women benefit!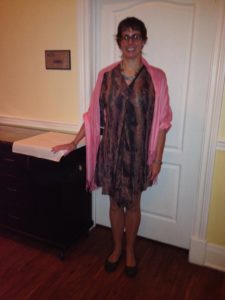 ***
Went down to Bloomington yesterday and used a class on my yoga pass. It was hot sculpt, which means using weights in an exercise class in a 95 degree room. It was intense–I definitely know I did something!
***
The inflatable ghost decoration in the neighbor's lawn is losing its air so that it looks like it's dying. Seems oddly appropriate.
***
This is the kind of thing that drives me nuts. Really, one day they close just a half hour earlier than the rest?! They couldn't make it a full hour, or two days to balance it out?!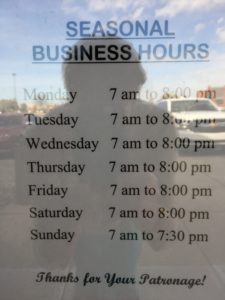 ***
Went running twice so far this week. It was painful–not at the time but the physical discomfort came later. I mean I imagine it was painful for the neighbors to watch me huffing and puffing around the neighborhood!
***
Had so much fun letting out my inner extravert by transforming into a dancing elephant in a pink dress for the Riley Festival parade! Click link above for a short video. Her name is Hortense, named after her father Horton. (You've heard of him; Dr. Seuss wrote about him after he hatched an egg and heard a Who.)
***
Had my first ride in a helicopter! It was very cool but far too short! So neat to see a part of Greenfield from above, especially as it was nearing twilight and lights were on.
***
Went to the Riley Festival and got separated from my parents. Figured I was a bit too old to go to the police booth and tell them I lost my Mom and Dad.
***
Visited Tuttle Orchards–I remember this totem pole of fall produce from my childhood; so glad to see they continue this tradition!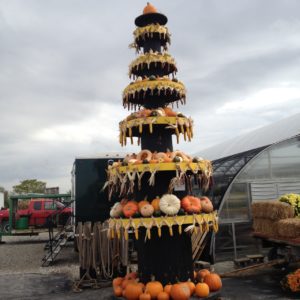 ***
Here I am with a reasonable facsimile of James Whitcomb Riley. The docent at the home said that Mr. Riley was quite popular with the ladies. So how could I possibly resist?!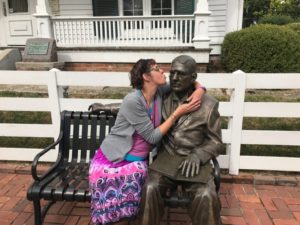 September 2017
Last evening was a beautiful night to play with my LED hoop:
***
I had an amazing time at the two-day retreat for Leadership Hancock County! So many interesting and talented students and presenters. Experienced some intriguing team building exercises. Below are some pictures of my group during the scavenger hunt. We didn't win, but it was agreed that we had the best pictures of all the teams. Can you recognize some of the local landmarks?
***
Enjoyed riding on the Pennsy Trail yesterday, and doing some reps on the exercise equipment. What a great opportunity to take advantage of this without having to join a gym. Perhaps I can beef up my skinny little bird arms. I also like the leg press although it is a bit difficult to get into. If you see a sweaty middle-aged woman in mismatched clothes contorting herself onto the machine, it's probably me–come over and say Hi!
August 2017
Leadership Hancock County has posted the list of participants in this year's class as well as the agenda for the seminar in September–I'm thrilled to be part of it! I am also very thankful to be the recipient of a tuition scholarship–what a pleasant surprise!
***
Went to a reception yesterday at ACT Services. Had fun meeting interesting people and was fortunate enough to win a door prize of products from Skinny & Co. Will look forward to trying their coconut oil products!
***
Had a great time at Indy Contra! It was great to reconnect with old friends and dance at the beautiful Grove Haus!
***
Here I am with Suzanne of Litterally Divine Chocolates awaiting the magic of the solar eclipse!
***
I was able to catch a bit of the annual Perseid meteor shower and was rewarded with a view of a lengthy shooting star!
***
Enjoyed the Chocolate Walk in downtown Greenfield. It was great to visit so many different businesses that I hadn't be in, and to get to see some fabulous old buildings. I'm curious to see who won the contest for best theme. My vote was for Bradley United Methodist Church as they gave out small ice cream sundaes; printed on the side of the cup was "Share your Sundays with us."
***
My good friend Michael Fassbender is not only a writer of fiction, but also an informed historian! Check out his site. (No relation to the actor but he doesn't mind sharing a name with someone already famous.)
***
Finally got out my big hula hoop again after far too long away from it. I'm hoping it will help build up my core muscles but until then I imagine I might be quite sore for a while.
***
My Dad got a new phone today, so he gave me his old one–which means that I now have a smart phone! An old iPhone is still much better than what I was using. So now when I receive texts with emojis they will actually show up, rather than non-expressive boxes which leave me guessing as to the meaning they were meant to convey!
***
Had another great bike ride on the Pennsy Trail–exercise, fresh air, and sunshine (vitamin D) all at once!
***
A rebuttal to my most recent article about golf carts was printed in the Daily Reporter within the last week. I sometimes hear comments to the effect that someone may not agree with me, but at least I get them thinking. I feel that's a way to get a dialogue started. I appreciate knowing that people are reading what I write!
***
I attended the Dog Days of Summer at Riley Park with my parents and of course Yogi–a Goldendoodle that many say looks like a Portuguese Water Dog. He is particularly shaggy in these photos but you can still tell that he (and we) were having a good time.
***
I am honored to be selected to participate in Leadership Hancock County! The program involves one seminar a month, covering various topics designed to promote local involvement. The course wraps up with group projects in the spring which address an area of need in the community. I can't wait to get started!
***
I had a great time this past weekend at the first ever bluegrass festival at the 4-H fairgrounds in Greenfield, IN. I was lucky enough to win a prize drawing, and I chose a fuzzy wrap, which came in handy as it was getting a bit chilly. Still got some bug bites despite using generous amounts of spray. I was very impressed with the music although a bit disappointed with the attendance. I hope it was successful enough to be able to return next year!
***
Litterally Divine Chocolates, located in Fountain Square in Indy, now has toffee crumbles–great on ice cream!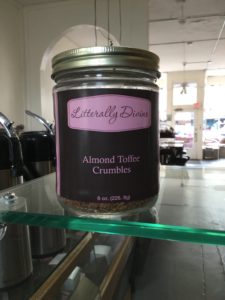 ***
I recently attended a meeting of the Arts Committee at the Wooden Bear. A new public art installation is being planned, to be completed around the Riley Festival on the first weekend in October. Keep your eyes open around downtown Greenfield!
***
Reading pays off! I am the proud winner of a $25 iTunes card from the Summer Reading Program at the Hancock County Public Library. I got an entry for the drawing for every book I read during the two months of the program. It's great to get a prize for something that you already enjoy doing. Here I am picking up my card. I really am as excited as I look! Libraries rule!